St. Johns Scouts 1st Heywood (Beavers)
The 1st St. John's Group has two Beaver colonies meetings on Monday and Tuesday evenings at 6:00pm for fun activities, games and visits.
New members are always welcome to join us - if you're interested click here to contact us.
Parents should check their current programme for details of meetings being held away from the hut, changes in start and finish times and special events.
To get the latest programme of activities, please go to the News section.
What to Beavers do?
Play games, meet new friends, gain badges, go on outing and visits, go outside and learn about the outdoors, meet new people, listen to stories, become cubs.
Beaver Scout activities are a combination having fun and learning. The Beavers learn about themselves, they get to know people from their local community.
They find out about life in other countries through organised activities. They care by helping those around them and learn how to look after themselves.

It is believed by participating in a balanced programme that Beavers experience Scouting. This programme provides opportunities for growth and development in their personal development.
Our Beavers at the over the course of two years, have the opportunity to gain most of the Challenge Badges as we create our programme from these activities. We also endeavour to cover many of the activity badges as well. However, some of them require some extra work to be completed at home.

Badges you might like to help your child with include: Animal Friend, Hobbies and Explore. Please look carefully at the badge requirements and if you have any questions please ask your section leader
Uniform Badges
One of the most common questions asked is "Where do I sew this badge"?
So we thought we would try and help a little. You can download a pdf to your PC which will help you position the badges correctly.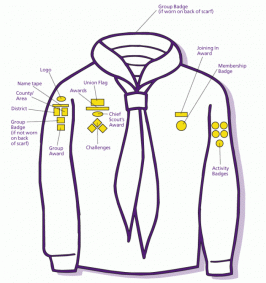 Click to dowload the Beaver Badge Postion PDF