St. Johns Scouts 1st Heywood (Scouts)
The 1st Heyood Scouts meet at 7.15pm till 8.45pm onTuesday every week during term time at the HQ.

They have a varied programme and do different things from week to week.The Scouts go on an annual Summer camp for a week in August.

New members are always welcome. You do not have to have been in Scouting before to come along, give it a go and see if you have fun.

To have a go at Scouts all you need to be is aged from 10-14 years old. Please click here to contact us.
To get the latest programme of activities, please go to the News section.
What to Scouts do?
• Archery
• Rifle Shooting
• Camping
• Games
• Cooking
• Obstacle Courses
• Orienteering
• Climing
• Abseiling
• Caving
• Rope work
• Swimming
• Competitions
• District Events
• Fancy Dress
• First aid
• BBQ's
• Badge work

Uniform Badges
One of the most common questions asked is "Where do I sew this badge"?
So we thought we would try and help a little. You can download a pdf to your PC which will help you position the badges correctly.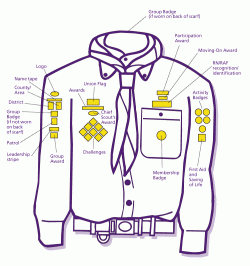 Click to dowload the Scout Badge Postion PDF