St. Johns Scouts 1st Heywood (Cubs)
The 1st St. John's Cubs Group meeting on Monday 7:00pm for fun activities, games and visits.
To join cubs you need to be between 8 and 10 years old. New members are always welcome to join us - if you're interested click here to contact us.
Parents should check their current programme for details of meetings being held away from the hut, changes in start and finish times and special events.
To get the latest programme of activities, please go to the News section.
What to Cubs do?
• Archery
• Science projects
• Camped under canvas
• Night Hikes
• Made camp gadgets
• Map reading
• Cooking
• Backwoods cooking
• Road safety
• Local Walk
• Christmas project
• Scavenger hunt
• Team building
• First aid
• Swimming gala

We try to incorporate outdoor activities in the summer months and get at least a weekend camp in every year.
Uniform Badges
One of the most common questions asked is "Where do I sew this badge"?
So we thought we would try and help a little. You can download a pdf to your PC which will help you position the badges correctly.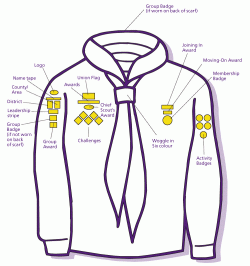 Click to dowload the Cub Badge Postion PDF